This is the wiki for the Perth Artifactory.
We store all our public knowledge in this wiki, including -
Information for visitors and members.
Documentation for our tools.
Our policies, procedures, and governing documents.
Our administrative records, such as minutes of our general meetings and committee meetings.
Mobile users can get to the site navigation using the button shown below.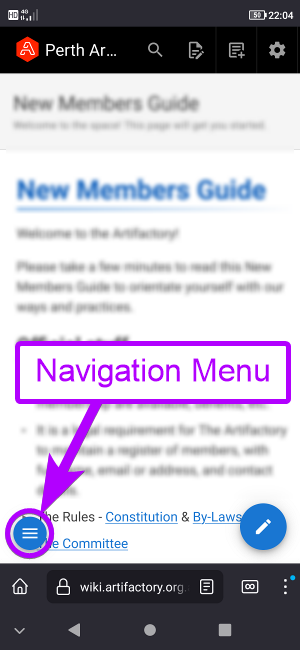 Anyone with a Slack account can edit our wiki!
Code of Conduct for all participants in the Artifactory.

Access to the Artifactory - including casual access, and 24/7 access for members.

Shopping - recommended suppliers for materials and services - including those who offer special rates for Artifactory members!

Tools - see the "Tools" section in the navigation menu
Help wanted to update the tools section - please contact us in the #tools-and-fabrication channel on Slack!
¶ For visitors and members-to-be
Constitution of the Perth Artifactory.
Committee - the management committee of the Artifactory.
Committee Rulings - including classes of membership, by-laws, and officers.
Subcommittees -
Minutes from general meetings, committee meetings, and subcommittee meetings.
We're in the process of migrating data from our old wiki to here.

If you see an issue drop a message in #it on Slack.

A read only copy of the old wiki can be found here.